Hotel
Kurt Tucholsky once declared: "Chill out and leave the wheel! Coast freely through the world, it is nice!"
The Horst family and all the staff welcome you to the Goehren Haelth Spa and Therapy Centre on Ruegen!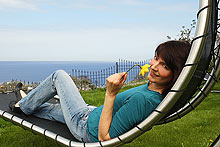 Enlarge During the recent construction of our Kneipp, Health Spa, Therapy and Well-being Centre, 22 new modern and elegantly furnished double rooms with balconies or terraces were built. Some of these rooms boast a wonderful view overlooking the Baltic Sea! All rooms come equipped with mod-cons such as: LCD flat screen televisions, internet connection, minibar, kitchenette, soft comfy beds and walk-in closet. Electric irons and ironing boards are also supplied along with secure safes for your valuables.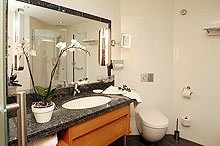 Enlarge On the ground floor we offer 2 rooms with king sized beds. The mattresses have 2.20 m of length. The interior is decorated with bright tones which gives each room a cosy and personal touch. The amply furnished bathrooms come equipped with showers and the finest granite and high quality ceramics and glass shower cubicles which are perfectly designed for pleasure and relaxation and incorporate vanity mirrors. Hair dryer and scale are supplied. Our well-being area is easily reached via the lift or stairs.
From most of our rooms you can experience the openess and expanse of the Baltic Sea which allows the mind to relax and wander. Upon arrival the view of the water itself supplies the relaxing ambiance causing you to rest and simply enjoy yourself.
Our wonderful park area also offers many spaces to relax and enjoy yourself. Covering a total area of over 15,000 square metres, there is ample space for letting go and unwinding after an eventful day or after your well-being treatment in our Kneipp, health spa and health therapy centre. Our lovingly tended lounge invites you to stay. From here you have direct access to the forest promenade which is a starting point for romantic walks. You can also reach the pier and the seafront from here.
Book online now and get the best price.
Document Actions