Nordic Walking
Nordic Walking at Goehren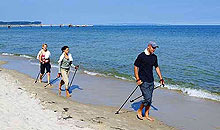 Enlarge Nordic Walking is popular, healthy and fun. More and more people are practising this unique exercise concept for staying or becoming as fit as a fiddle. Nordic Walking is much more than walking with staffs. It's an independent way of exercising, which is in no way simply a trend.
The Nordic Walking park Ruegen has existed since 2007. 6 different long and signed paths lead through the Baabe Heath between the Baltic Sea resorts Baabe and Goehren.
The routes of the Nordic Walking park between Baabe and Goehren pass through AKZENT Waldhotel Goehren. So you can enter the paths directly from the hotel.
With the following link you are able to download the official flyer of the Nordic Walking park Ruegen (as pdf file, in german only).
Document Actions