Solinarium
Experience our Salt Room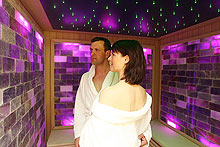 Enlarge The Ancient World had already recommended salt at a general cure. The Egyptian employed salt to drying up wounds and for preventing infections.

Pure salt-air assists the immune system and operates as an anti-inflammatory, is anti-bacterial and generally beneficial.
stone salt from deep layers of the Earth
pure natural products without any chemical additives
salts that are ionizing
salts that prevent respiratory problems
heated benches that give a pleasant warmth to make your experience in the salt room even more nourishing and relaxing.
Document Actions