Hiking on Ruegen
The real Paradise of Ruegen – Southeast Ruegen and the Biosphere Reserve are far away from everyday hustle and bustle!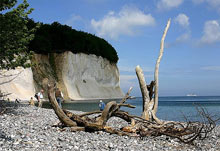 EnlargeYou can stay at the Baltic Sea resort Goehren, within the biosphere reserve, where we offer comfortable rooms, most of which come with a view overlooking the sea and with free use of swimming pool and sauna facilities.

The biosphere reserve of southeast Ruegen is a cultivated landscape with an impressive natural beauty. The picturesque scenery of the Ruegen coast is characterized by a complex and breath taking interaction of land and sea. Broad sandy beaches alternate with steep cliffs and craggy terrain. Discover this uniqueness during your extended walks.
Goehren is an ideal starting point for hiking excursions whether by local railway, by boat or by bus along the seaside coasts.
Hiking tours around Goehren:
The Museum Goehren
Hiking around the Nordperd
Hiking tours through the Baabe Heath
Hiking tours to Klein-Zicker
Hiking tours along the Baltic Sea beaches to Lobbe
Hiking tours on Ruegen:
Hiking tours across the Zicker hills
Hiking on the high ground alongside the coastal cliffs from Sassnitz to Koenigsstuhl
Hiking through the Granitz to Binz
Document Actions