Well-being
Well-being is an integral health concept, an active health strategy, which focuses on enjoyment and zest for life.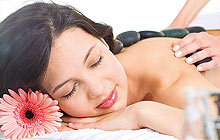 Enlarge Here you'll find a full service package for body and soul that makes you more resistant against daily hassles.

Enjoy the effect of extraordinary products in harmony with nature. Our therapies will support you in your endeavour to reach a health-related quality of life and well-being. Indulge yourself with something extra for your beauty with pure, luxurious natural cosmetic from PHARMOS.
Here you'll find an overview on our complete offer – we would be glad to advise you:
Scheduled Appointments:
We recommend that you make your appointments for all treatments in good time, if possible before you arrive, so we are able to meet your expectations and requirements.
Document Actions